Levelling Solutions
Our levelling products are made with plastics and composites of high quality and resistance, which lend them a great security use and a long life. They can be re-used several times therefore they can be considered sustainable products. And they are 100% recyclable.
But, above all, they are predictable in terms of behaviour. That is why they are perfect for project designers, as they have at their disposal all the technical datasheets, based on our tests and quality controls performed and checked by external reference laboratories with more tests.
Levelling Shims
Especially suitable to level large precast concrete items and other heavy objects. Great high compressive strength.
Sustainable levelling shims
These levelling and assembly products are the first of their kind, as they are produced using a high percentage of plant fibres. These maintain the characteristics of our levelling shims, but now more sustainable.
"U" levelling shims
Horseshoe shim with high compressive strength, has a gap to hold bars, profiles or tubes to a base.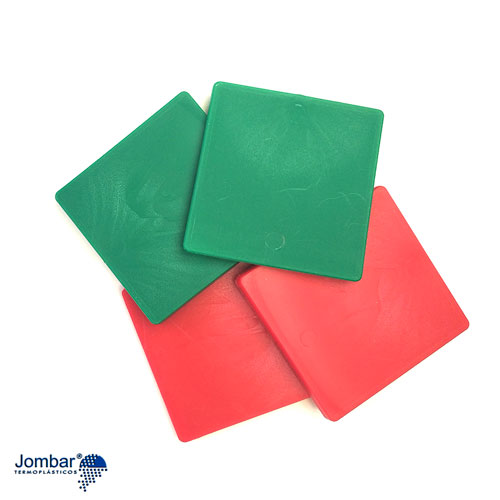 Basic Levelling Shims
Multi-use plastic wedges used to level tables, doors and windows, to secure doors and in flooring installations.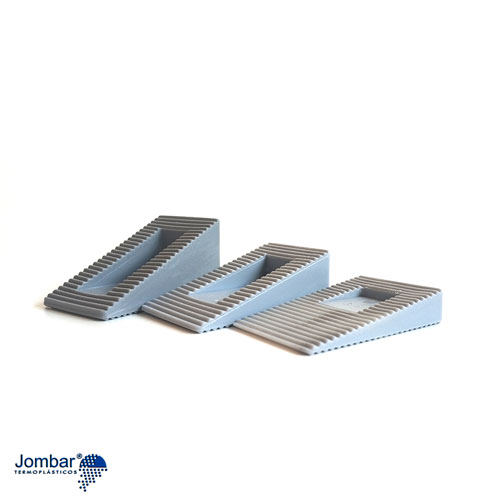 Small Wedges Cuneus Minor
Small wedges with great load strength and a grooved surface to avoid displacements. They can be used in multiple applications, including levelling precast concrete elements.
Cuneus Magnus, Big Wedges
Grooved large wedges with a great load strength. Specifically, for levelling concrete and steel pillars.
Shims and Wedges with Multiple Uses
Multi-use shims and wedges with several uses, such as levelling tables, securign doors, as well as levelling precast concrete elements or heavy machinery, etc.
Functional Design
Designed for different needs, Jombar products save set up time.

100% Recyclable
Jombar levelling products are produced using 100% recyclable plastics and composites.